Aim
The aim of the Cyber Wellness programme is to develop Seng Kang Youths' instinct to protect and empower him to take responsibility for his own well-being in cyberspace. As Learners for Life, they will be equipped with positive online skills and behaviour.
Values
Safe and responsible use & Respect for self and others
The school adopts MOE's Cyber Wellness Framework in educating our students on Cyber Wellness. This framework focuses on three key processes: Sense, Think and Act.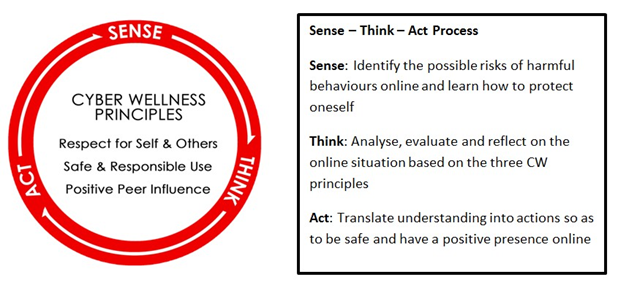 Key Strategies

Ø  KS1: Use of head-heart-hands approach
              Head (Sense-Think): Knowledge (CCE lessons, workshops)
              Heart (Sense-Think-Act): Experience (Values)
Hand (Act): Outreach/advocacy (Ambassadors Programme, Intensive Programme for targeted students)
Ø  KS2: Leveraging on partners (Touch Community Services, MetoYou Cybercare, Media Literacy Council)
Ø  KS3: Close monitoring of programmes (Refer to OPAL resources and training guidebook provided by Guidance Branch)
Ø  KS4: Evaluation of programme (feedback and assessment)

Key Platforms

Student Leadership Development
Student leaders are also recruited as Cyber Wellness ambassadors to lead team for competitions, class advocacy and morning mocha
CyberWellness Education Year Plan
Focus for different levels:
Sec 1: Personal awareness (digital footprint, maintaining a positive online identity, regulated use of social media)
Sec 2: Managing online relationships (cyber bullying, regulated use of social media)
Sec 3-5: Responsible decision making (responding to mindsets/influences in social media, cyber pornography, regulated use of social media)
CyberWellness Related Links
https://www.moe.gov.sg/education/programmes/social-and-emotional-learning/cyber-wellness
Teachers in charge