Experiential Learning & Overseas Learning Journeys
Experiential learning at SKSS

MISSION:
To provide opportunities for SKY Achievers to construct new knowledge through transformation of their experience by feeling, reflecting, thinking and applying knowledge by doing.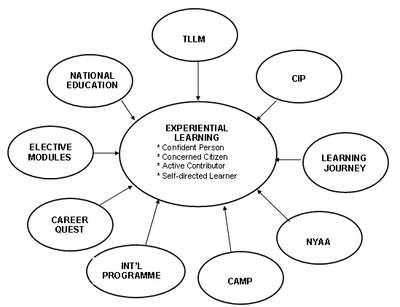 Learning Journey
Through learning journeys, our aims are to enhance our students in the learning and development of various subjects as they would be able to internalize many concepts learnt in the textbook. In addition, it provides opportunities for our students to construct their own knowledge through exploration and discovery. As such, the school has organized many inter-disciplinary and multi-disciplinary learning journeys. Learning journeys also provide our students' opportunities to develop their leadership and character.
Overseas Learning Journey
From 2012, the school-wide approach of experiential learning involves overseas cultural immersion for Sec 3 (destinations based on pupils' choices). CIP has also been incorporated into the overseas cultural immersions.
Local Learning Journey
We have conducted learning journeys to the following places:
Apart from the myriad of CCA-based and other small group CIP projects, the school also had a few major school-wide and level-wide CIP that was carried out yearly. They were the Chinese New Year Hamper Project and the School-wide Newspaper Collection Day.
Service Learning
1NT service Learning Please click here
Interview on NT IPW Please click here